Our comprehensive strategy
Wealth management is complex and goes beyond estate and tax planning or a sound investment plan. The process of comprehensive planning requires the coordination of 10 elements. Decisions and actions in one can dramatically affect another. Wealth management Wilmington NC has evolved to encompass all these elements in a harmonized manner.
Whether you are focused on retirement planning, growing your wealth, legacy planning or family governance, each element affects every client, therefore comprehensive planning is our standard in the Wilmington NC wealth management sector.
Wealth management today is an overused phrase. Many firms and insurance agents profess to deliver this highly complex form of financial planning. The advisors at our wealth management firms in Wilmington NC must gain a complete and clear understanding of the client's goals and appetite for risk. This information is necessary for our quest to construct the client's Investment Policy Statement – a document in which a personal roadmap of the client's strategic objectives are well documented. This document serves to remind the advisor what is expected. For the client, it creates a set of guardrails that seeks to avoid knee-jerk reactions and stay focused on long-term results. OmniStar reviews this document annually in an effort to identify where adjustments may be necessary – ensuring the usefulness of programs and strategies.
Advisors must be able to develop a financial plan without biases. For those who are paid through commission products, it may be difficult to step outside of one's personal goals in order to focus on that of the client. Because of this, OmniStar delivers Wealth Management Planning in a conflict-free environment. In other words, our planning expertise can be purchased for a fee – that is, no products or selling. The process of unbiased planning must always be ahead of products or the implementation of strategies. This is the hallmark of high-quality wealth management in Wilmington NC.
We do not attempt to be the right fit for everyone. Instead, we have developed expertise in financial advice among certain groups; professionals, dentists, families, and businesses who face significant financial complexity. Our firm is proud of our comprehensive offerings and we consistently review new services that might enhance the client/adviser relationship. We embrace collaboration, recognizing that one size doesn't fit all. Listening first and developing trust, financial planning is designed specifically for each client's circumstances. Protecting and preserving our client's wealth is expected, and having the awareness and expertise to make this a reality is why so many have depended on us for decades.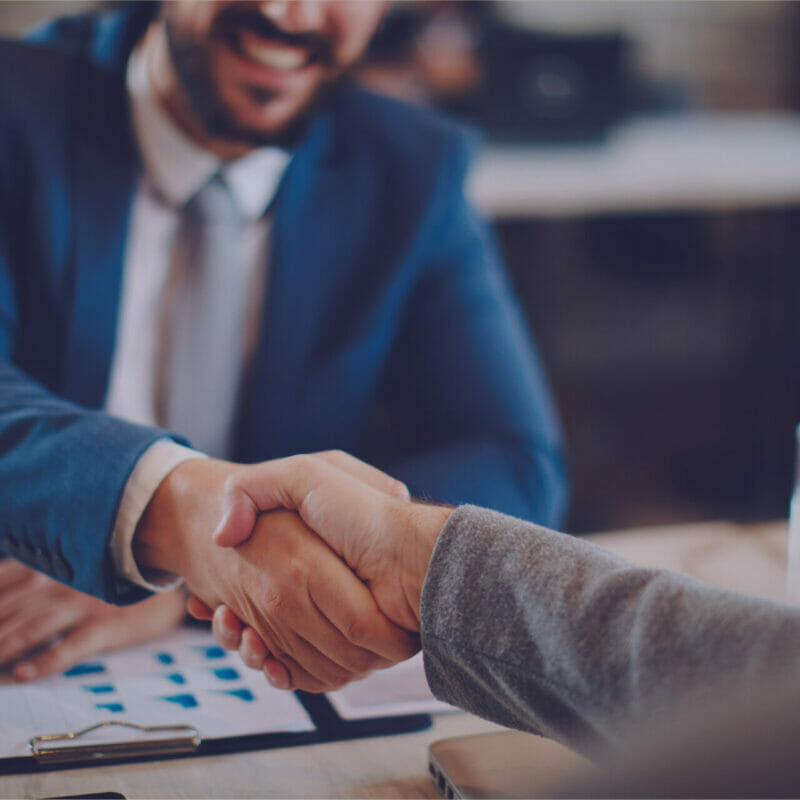 Our Planning Process begins with the first handshake – building a solid relationship is the foundation on which we do our greatest work. Getting to know you is more than knowing your finances. It means understanding you and the things most important in your life.
We work with you to identify your goals and where you are relative to those goals. We evaluate possible solutions and develop strategies to help you get where you want to be. Wait, it doesn't stop there. Implementation is a step that is often missed, resulting in a failed plan. Our team will guide you through each phase of planning and recommendations – vision becomes reality. Finally, the optimization of your financial situation is accomplished through our centralized advanced planning technology and regular visits with your advisory team.
Using advanced technology, we bring all of your financial accounts into one personalized financial website. Our analysis and recommendations must be comprehensive and reflect current market conditions. Real time planning is far superior to archaic static planning.
With a daily snapshot of your progress, we can better advise on financial factors that may impede your ability to achieve the goals which are most important to you. Moreover, this relieves you of organizational burdens that create distractions from what matters most to you.
Our technology delivers a secure view or your financial progress. It allows us to collaborate online at any time, without the requirement of a specific meeting location. An internet connection is the only requirement to keep us connected.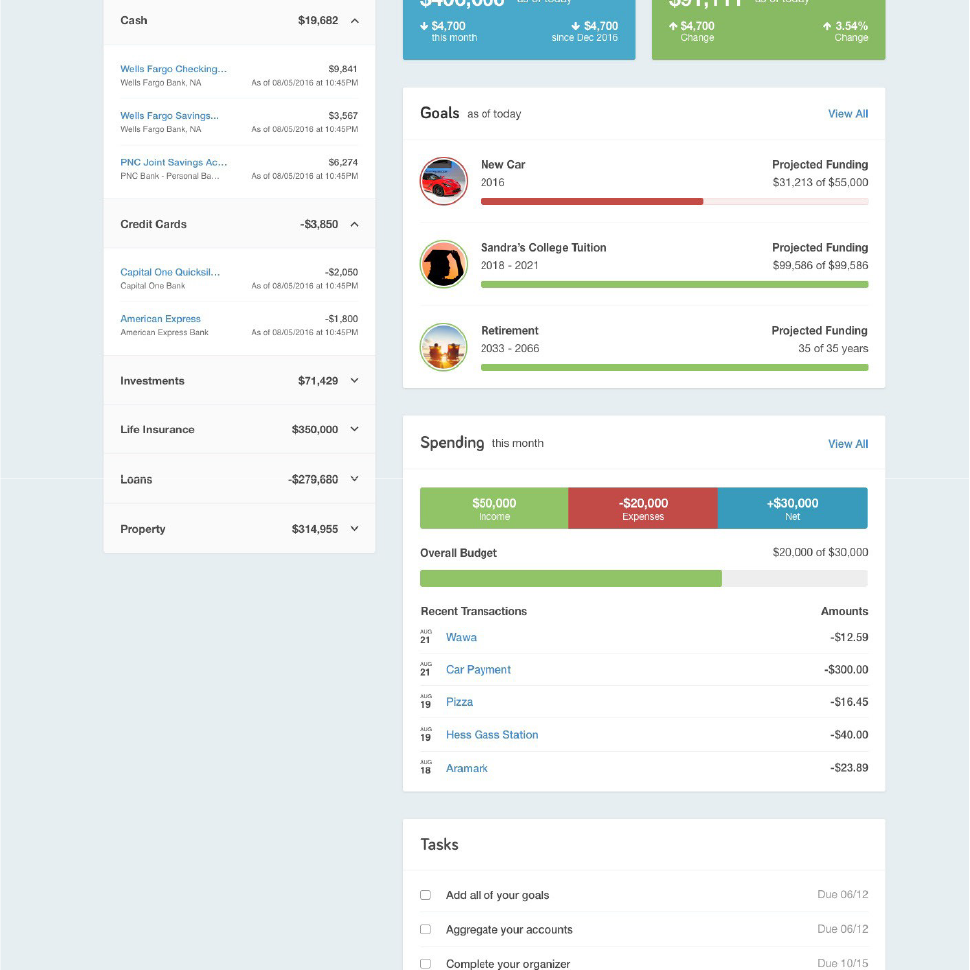 Organizer
Connect all accounts for a consolidated view of your entire financial picture
Track Spending
Know how much you are spending and where.
Investments
Interactive charts and detailed views help monitor and assess the performance of your assets
Screen Sharing
Imagine the convenience of interactive planning with your advisor from anywhere, anytime
Budgeting Tools
Establish budgets to help you reach savings and spending goals
Mobile
Your financial website is available on your smart device
Vault
Safely store you most important financial and legal documents, available 24/7
Goals
Monitor your progress to be sure you are on target to reach your goals